Wat zijn afbeeldingsbanners?
Een afbeeldingsbanner is een basistype promotiemateriaal dat wordt ondersteund door Post Affiliate Pro.
Het is een grafische afbeelding die wordt gebruikt om reclame te maken voor een product of dienst.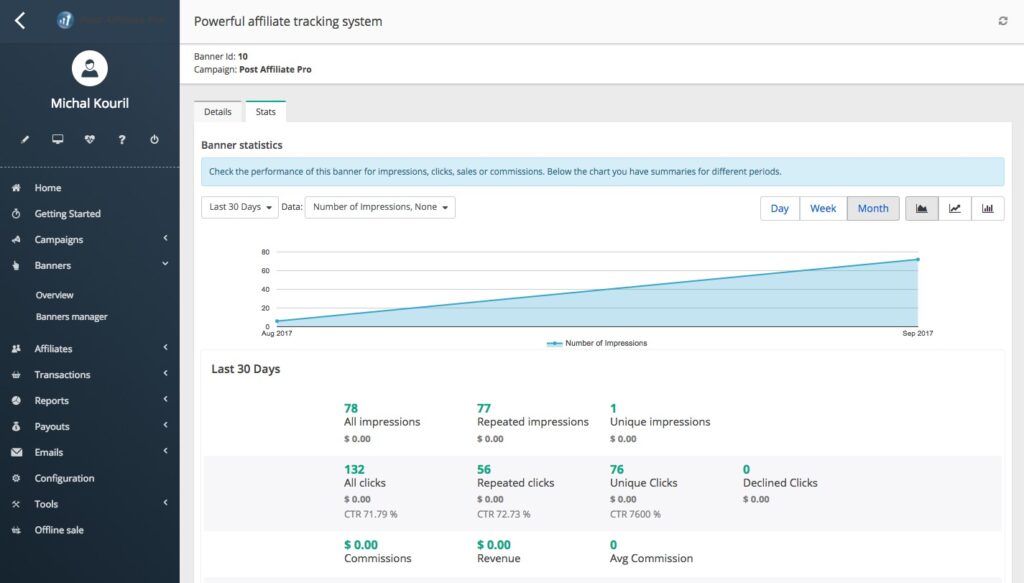 Post Affiliate Pro ondersteunt alle soorten afbeeldingen als afbeeldingsbanners.
U kunt uw afbeeldingen eenvoudig rechtstreeks naar PAP uploaden en uw filialen kunnen uw banners op hun websites gebruiken.
Banneradvertenties zijn er in verschillende formaten, maar zijn vaak rechthoeken van 460 pixels breed en 60 pixels hoog.
Ook 460 x 55 en 392 x 72 formaten worden vaak gebruikt.
Uw banner kan vooraf gedefinieerde formaten hebben (bijv. Skyscraper, Wide Skyscraper en Letherboard), of u kunt banners op maat definiëren.
Alle formaten worden ondersteund in Post Affiliate Pro.
Wat is het meest populaire formaat van afbeeldingsbanners?
Banners worden meestal geformatteerd in .JPEG-formaat. Bij het maken van foto's of afbeeldingen met complexe verlopen, veel kleuren of schaduwen, is dit programma de ideale oplossing. Het grootste voordeel van JPEG's is dat ze u een bestand opleveren dat kleiner is dan 200 kb. Bovendien kunt u met JPEG's de kwaliteit van de banner aanpassen. Afhankelijk van uw behoeften kunt u kiezen voor hoge kwaliteit of lage kwaliteit, waarmee u het uiteindelijke formaat van uw banner kunt aanpassen.
Bannerstatistieken
U kunt gedetailleerde statistieken bekijken over elke banner die is gemaakt in Post Affiliate Pro.
U kunt verschillende soorten banners naast elkaar vergelijken, of analyseren welke soorten banners effectiever zijn in uw partnerprogramma.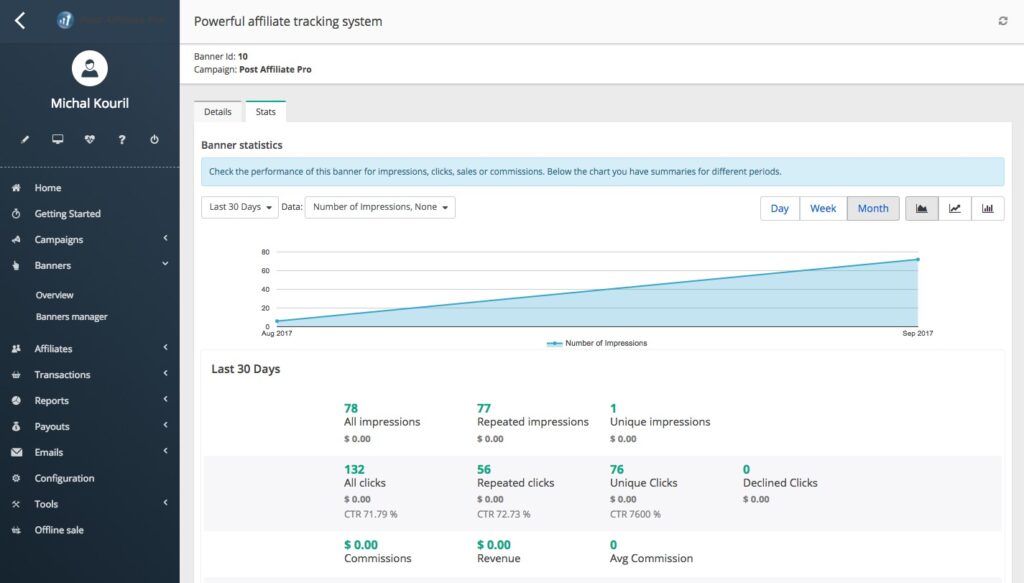 {
"@context": "https://schema.org",
"@type": "FAQPage",
"mainEntity": [{
"@type": "Question",
"name": "What is an image banner?",
"acceptedAnswer": {
"@type": "Answer",
"text": "An image banner is a graphic image used to advertise a product or service.."
}
}, {
"@type": "Question",
"name": "How are image banners beneficial?",
"acceptedAnswer": {
"@type": "Answer",
"text": "Image banners are still the most effective way of advertising in affiliate marketing, because within an image you can express not only your basic slogan, but emotions as well."
}
}]
}