Wat is een trendrapport?
Het Trendrapport geeft trends van uw transacties weer in grafieken en in gegevensvelden.
U heeft een duidelijk beeld waar uw partnerprogramma naartoe gaat.
U kunt uw transacties filteren op datum, status, campagne of partner.
U kunt 2 attributen tegelijk weergeven in de grafieken, waaronder vertoningen, verkopen, commissies of klikken. U kunt ook de voortgang van meerdere parameters vergelijken.
Onder grafieken ziet u een gedetailleerd transactieoverzicht van verschillende parameters:
Kliks
Aantal verkopen
Waarde van verkopen
Commissie per vertoning
Commissie per klik
Gemiddelde hoeveelheid bestelling
Parameters zijn gegroepeerd op tijd:
Vandaag
Deze week
Deze maand
Dit jaar
Altijd
Geselecteerde tijdsperiode in filter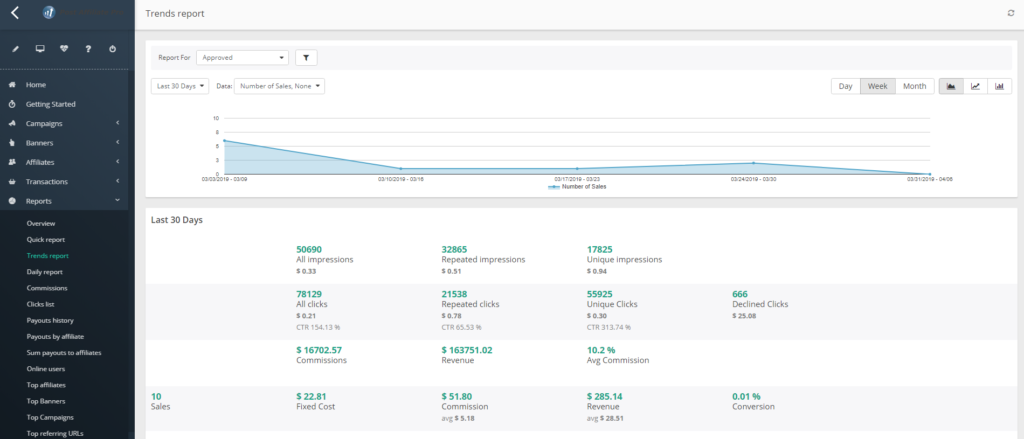 Waarom zijn trendrapporten belangrijk bij affiliate marketing?
Op de hoogte blijven van nieuws uit de branche is cruciaal als het gaat om het runnen van een succesvol affiliate marketingprogramma. Dit omvat hoe nieuwe producten worden ontdekt en gekocht. Het kan echter moeilijk zijn om op de hoogte te blijven van trends op het gebied van affiliate marketing, aangezien de smaak en zorgen van de consument voortdurend veranderen en de normen altijd veranderen.
Gelukkig kunt u de belangrijkste affiliate marketingtechnieken voor het komende jaar voorspellen door te beoordelen wat in het verleden heeft gewerkt en wat klanten op dit moment waarderen. Als resultaat houdt u uw partners voorop en verbetert u zo hun marketinginspanningen voor uw bedrijf.
{
"@context": "https://schema.org",
"@type": "FAQPage",
"mainEntity": [{
"@type": "Question",
"name": "What is a trends report?",
"acceptedAnswer": {
"@type": "Answer",
"text": "The trends report displays trends of your transactions in charts as well as in data fields."
}
}, {
"@type": "Question",
"name": "Why are trends reports important in affiliate marketing?",
"acceptedAnswer": {
"@type": "Answer",
"text": "You can predict the most important affiliate marketing techniques for the upcoming year by assessing what has worked in the past and what customers value currently."
}
}]
}