Wat zijn PDF Banners?
Het maken van PDF-banners is een unieke promotietool die is geïmplementeerd in Post Affiliate Pro, waarmee u gemakkelijk aanpasbare PDF-documenten voor uw partnerbedrijven kunt maken.
Documenten worden gegenereerd op basis van tekst (HTML), die verkopers kunnen bewerken in een WYSIWYG-editor, rechtstreeks in het bannerdetail. Ook worden basistekstformaten ondersteund, zoals vetgedrukte, cursieve of onderstreepte tekst.
Waarom worden ze eenvoudig genoemd?
Het is voor handelaren nog nooit zo eenvoudig geweest om een PDF-document te maken voor hun partnerondernemingen.
Verkopers kunnen vooraf gedefinieerde constanten in tekst gebruiken (bijvoorbeeld de voornaam, achternaam, gebruikersnaam of de gegevensvelden van een andere partner), die worden vervangen door echte waarden wanneer de partner PDF-documenten downloadt.
De volgende afbeelding laat zien hoe eenvoudig het is om PDF-documenten te maken voor verkopers: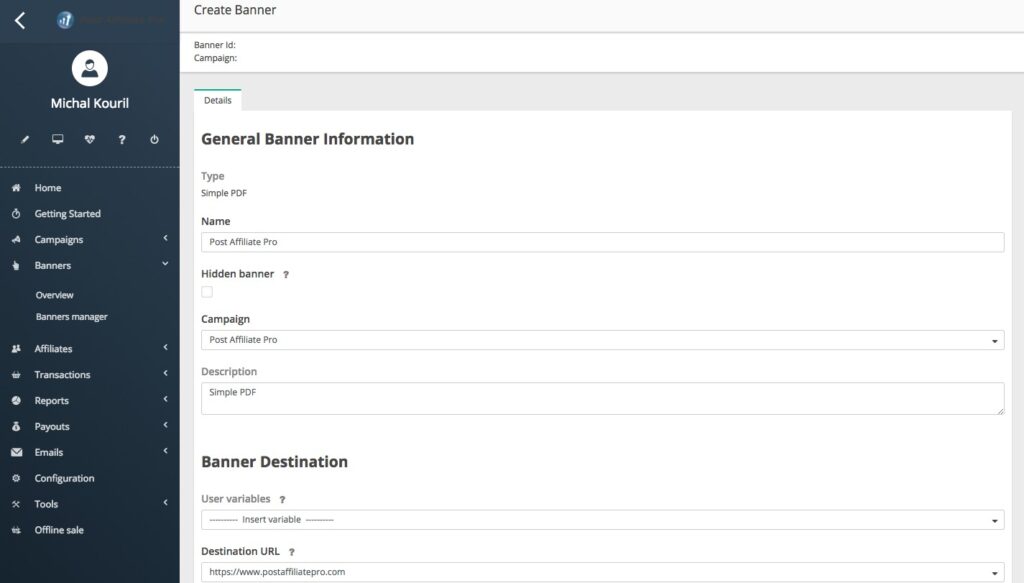 Partners kunnen direct gepersonaliseerde PDF-documenten downloaden die zijn gegenereerd door Post Affiliate Pro, uit tekst die door verkopers is gedefinieerd in Simple PDF-banner.
Waarom zijn PDF-banners nuttig?
PDF-banners kunnen een gemakkelijke methode zijn om een specifiek of een algemeen publiek te bereiken.
Kleurrijke, doordachte en boeiende inhoud kan worden bereikt met behulp van PDF-banners.
Ze zijn tijdloos omdat ze steeds opnieuw kunnen worden hergebruikt zolang het product of de dienst nog relevant is.
Nadat hun relevantie is verlopen, kunt u ze weggooien of wijzigen om ze op de hoogte te houden van de huidige trends.
Het is allemaal aan u.
{
"@context": "https://schema.org",
"@type": "FAQPage",
"mainEntity": [{
"@type": "Question",
"name": "What are simple PDF banners?",
"acceptedAnswer": {
"@type": "Answer",
"text": "PDF banners is a unique promotional tool, which allows you to create easily customizable PDF documents for your affiliates."
}
}, {
"@type": "Question",
"name": "How are PDF files useful?",
"acceptedAnswer": {
"@type": "Answer",
"text": "PDF banners can be colorful, thoughtful, and engaging content that can easily be targeted audiences or to a general audience. "
}
}]
}