Wat is het opvolgen van kortingsbonnen voor partners?
Het opvolgen van kortingsbonnen voor partners of gewoon het opvolgen van kortingsbonnen is een unieke functie die wordt aangeboden in Post Affiliate Pro waarmee partnerhandelaren de prestaties van hun partner kunnen volgen.
Codes voor kortingsbonnen kunnen worden gekoppeld aan specifieke partneraccounts met het bijhouden van kortingsbonnen.
Elke keer dat de klant de coupon inwisselt, wordt die partner gecrediteerd als een verwijzing, net alsof die klant een verwijzings-URL-link had gebruikt.
Hoe kunt u profiteren van kortingsbonnen?
Een coupon geeft uw filialen een stimulans om vaker reclame voor uw website te maken door kortingen op producten aan te bieden.
Er zijn verschillende soorten kortingsbonnen beschikbaar in Post Affiliate Pro en u kunt binnen één campagne veel groepen voor kortingsbonnen (promoties) maken.
Alle campagnes in uw partnerprogramma kunnen een onbeperkt aantal coupons en banners voor kortingsbonnenweergeven.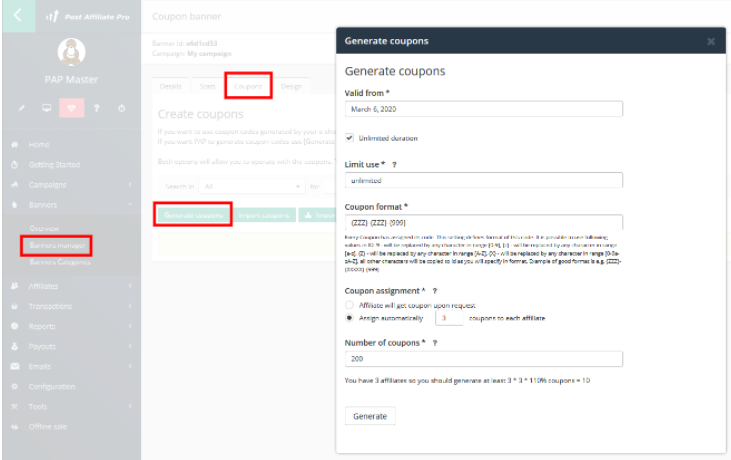 U kunt bijvoorbeeld tegelijkertijd een 5% kortingsactie en een 20% kortingsactie hebben.
U kunt voor elke promotie afzonderlijke sets coupons genereren, zelfs met een systeem met meerdere niveaus, zodat partner kortingsbonnen voor beide promoties kunnen aanvragen.
Als u wilt, kunt u er ook voor kiezen om de promoties openbaar of privé te maken, in welk geval u alleen de beste partners kunt kiezen.
U hebt volledige controle over de promoties.
Zodra gebruikers promotiekortingsbonnen gebruiken die zijn ontvangen van een externe partner, houdt de functie voor het bijhouden van kortingsbonnen van Post Affiliate Pro automatisch bij tot welke promotie de kortingsbon behoort, welke partner de kortingsbon aan de gebruiker heeft verstrekt en met welke campagne deze is gekoppeld
.
Op deze manier heeft u de mogelijkheid om te analyseren wanneer conversies plaatsvinden en hoeveel commissie uw partners krijgen betaald.
{
"@context": "https://schema.org",
"@type": "FAQPage",
"mainEntity": [{
"@type": "Question",
"name": "What is affiliate coupon tracking?",
"acceptedAnswer": {
"@type": "Answer",
"text": "Affiliate coupon tracking or simply coupon tracking is a unique feature offered in Post Affiliate Pro which allows affiliate merchants to track their affiliate's performance."
}
}, {
"@type": "Question",
"name": "Why are coupons in affiliate marketing?",
"acceptedAnswer": {
"@type": "Answer",
"text": "A coupon is a marketing strategy which affiliates can use to drive sales."
}
}]
}