Wat zijn actiecommissies?
Met de functie Actiecommissies kunt u acties definiëren die bepalen wanneer commissies worden betaald, zoals 'per actie', 'per klik' en verschillende andere 'per'-scenario's.
De meeste partnersoftware beperkt u tot het alleen kunnen volgen van verkopen of leads.
Met Post Affiliate Pro kunt u ELKE actie volgen en commissies per actie (CPA) betalen aan uw gelieerde ondernemingen.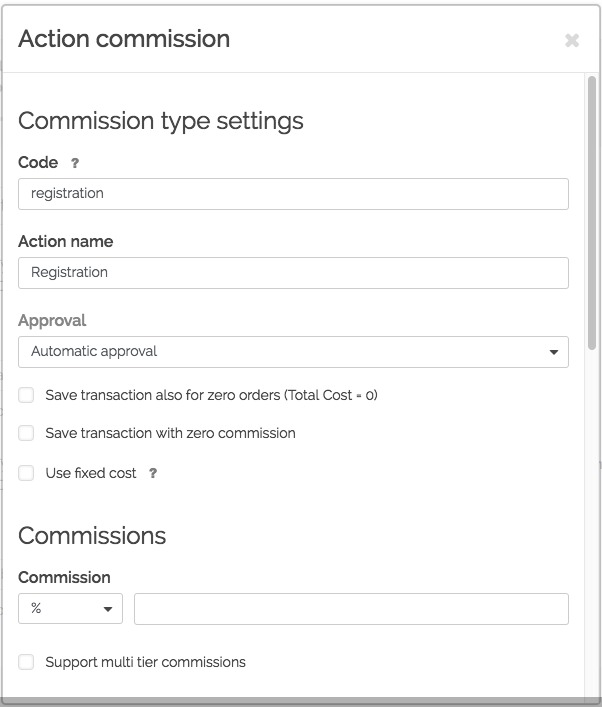 Hoe zijn actiecommissies nuttig voor verkopers?
Partners worden gemotiveerd door hun commissietarief. Als handelaar is het uw verantwoordelijkheid om uw gelieerde ondernemingen betrokken te houden. Regulering van commissietarieven is een effectieve manier om filialen te motiveren en de verkoop te stimuleren. Dit zal partners aanmoedigen om creatieve promotiestrategieën voor uw product te bedenken. Partners doen al het mogelijke om ervoor te zorgen dat de actie die nodig is voor commissies door hun bezoekers wordt genomen. Maar commissies vertalen zich niet altijd in verkopen. Om een commissie te verdienen, hoeft u alleen maar op de link te klikken. Deze eisen kunnen door de partnermarketeer worden ingesteld in Post Affiliate Pro.
Kosten per actie versus kosten per klik?
Zoals de naam al aangeeft, hebben overeenkomsten voor kosten per actie rechtstreeks betrekking op een of andere conversie, waarbij verkopen en registraties tot de meest voorkomende typen behoren. Dit sluit deals uit die uitsluitend zijn gebaseerd op klikken, die kosten per klik of CPC worden genoemd.
CPA bevindt zich aan de andere kant van het spectrum van CPM, terwijl de kosten per klik (CPC) ergens in het midden liggen.
CPA-modellen zijn over het algemeen risicovoller voor uitgevers, omdat ze moeten vertrouwen op goede conversiepercentages op de advertentieblokken en de website van de adverteerder om commissies te verdienen.
Het is om deze reden dat affiliate marketing het meest populaire gebruik is van prestatiegebaseerde prijsstelling, waarbij verkopers en adverteerders bepalen wat ze willen belonen en hoeveel ze bereid zijn te betalen.
{
"@context": "https://schema.org",
"@type": "FAQPage",
"mainEntity": [{
"@type": "Question",
"name": "What is the commission for affiliate marketing?",
"acceptedAnswer": {
"@type": "Answer",
"text": "Commission in affiliate marketing is the percentage an affiliate receives for the actions or conversions that result from their promotion of products."
}
}, {
"@type": "Question",
"name": "How are commission rates useful to affiliates?",
"acceptedAnswer": {
"@type": "Answer",
"text": "Commission rates vary among retailers. Therefore searching for the most lucrative affiliate network is vital for affiliates and making the best offer is vital for merchants."
}
}]
}