Wat is een bannerrotator?
Bannerrotators zijn een vorm van software die banneradvertenties roteren die gebruikers zien tijdens het browsen op uw website. Roterende banners zijn ontworpen om op te vallen op een website en potentiële klanten aan te trekken.
Als alternatief worden bannerrotators ook wel banneradvertentierotators genoemd.
Software voor bannerrotatie laadt banneradvertenties terwijl mensen op een website browsen en roteert ze. Door banners op een website te roteren, zijn ze beter zichtbaar voor bezoekers omdat ze voorkomen dat ze stagneren. Webuitgevers hebben meestal ook opties als het gaat om bannerrotatorprogramma's, zoals het bepalen van de bannerfrequentie, animatiesnelheid, bannertype en waar bepaalde banners worden weergegeven.
Banneradvertenties in het algemeen zijn geweldige hulpmiddelen voor kleinere bedrijven, omdat ze afhankelijk zijn van leads en conversies om hun bedrijf te laten groeien. Uitgevers met een groter publiek gebruiken geavanceerdere advertentieweergavesystemen. Terwijl krantenadvertenties en lokale media voor de meeste kleine bedrijven voldoende waren, hebben moderne uitgevers veel geavanceerdere tools nodig om advertenties beter op sitebezoekers te kunnen richten.
Hoe maakt u een roterende banner in Post Affiliate Pro?
Bannerbeheer
U kunt uw partners een brede selectie aan promotiemateriaal geven, zodat ze uw website of producten kunnen promoten op een manier die zij geschikt achten.
Alle promotiematerialen kunnen worden beheerd in het handelaarspaneel in Banners -> Bannersmanager.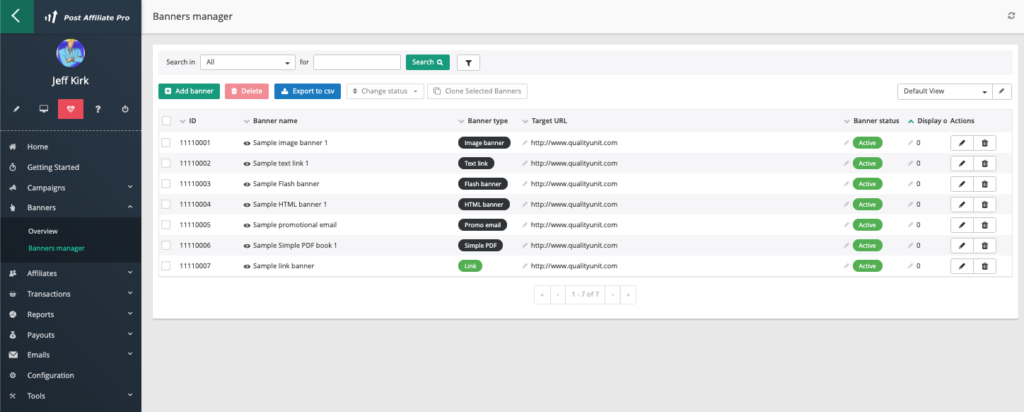 In het Bannerbeheer vindt u enkele reeds gemaakte voorbeeldbanners die u laten zien hoe het moet. U kunt deze bewerken of verwijderen en u kunt ook nieuwe maken. Elke banner hoort bij een bepaalde campagne die wordt gepromoot.
Hier vindt u meer informatie over andere soorten banners.
Banner statistieken
U kunt gedetailleerde statistieken bekijken over elke banner die is gemaakt in Post Affiliate Pro. U kunt verschillende soorten banners naast elkaar vergelijken, of analyseren welke soorten banners effectiever zijn in uw partnerprogramma.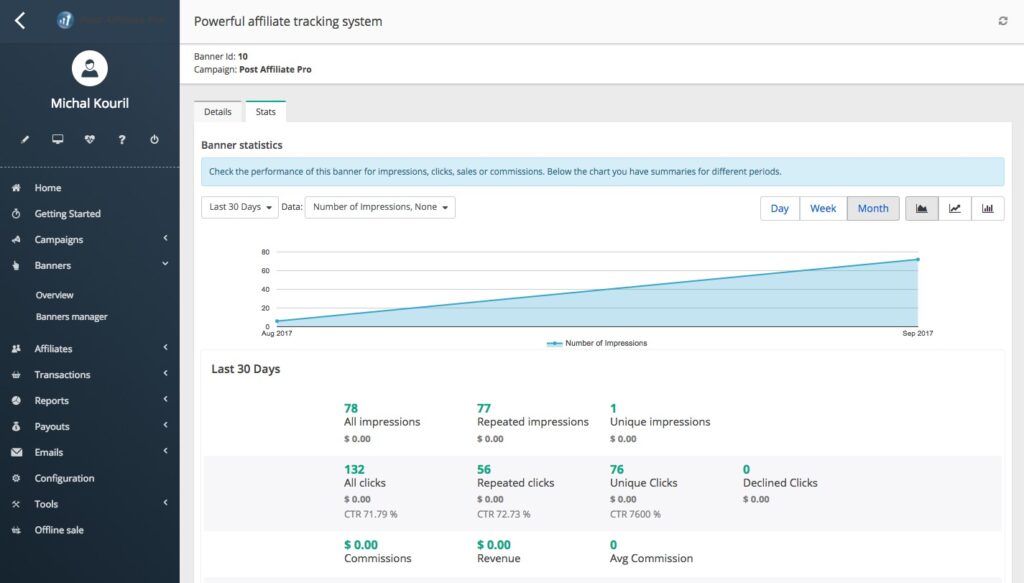 {
"@context": "https://schema.org",
"@type": "FAQPage",
"mainEntity": [{
"@type": "Question",
"name": "What is a banner rotator?",
"acceptedAnswer": {
"@type": "Answer",
"text": "Banner rotators are a form of software that rotate banner ads users see while browsing your website. Rotating banners are designed to stand out on a website and attract potential customers."
}
}, {
"@type": "Question",
"name": "Why should I use a banner rotator on my page?",
"acceptedAnswer": {
"@type": "Answer",
"text": "Any company looking to increase sales should look at ever possibility to increase revenue. Banner rotators in marketing are cheap and keep potential customers' attention longer."
}
}, {
"@type": "Question",
"name": "How can I implement a banner rotator on my page if I cannot code?",
"acceptedAnswer": {
"@type": "Answer",
"text": "You can find many ways on the internet. However, if you want a hassle-free integration with 24/7 assistance available, Post Affiliate Pro is a great choice to not only add banner rotator, but also provide the #1 affiliate tracking software on the market."
}
}]
}